Services
Below is our current pricing. Please inquire if you don't see the work you want listed. Prices do not include return shipping. Information on sending your watch to us for work can be found on the Contact page.
Prices are subject to change and will vary depending on other work being done and how many watches are being worked on. For instance new crystals are installed free if the watch is being blasted or cerakoted as this part has to be removed for the blasting or cerakote process.
Bead Blasting
Watch with removable bezel (diver type):
Includes case, bezel, case back, and crown: .......... 50
Watch with non-removable bezel:
Includes case, case back, and crown: .......... 45
For each control other than crown: .......... 12
For display case back: .......... 10
Bezel number painting (some watches will need it some won't): .......... 0 to 25
Bracelet (includes basic fold over clasp): .......... 45
Buckle (for watches on straps): .......... 10
Misc parts such as screws or crown guards: .......... 8 to 25
Watches with PVD, ceramic, or other coating must have this coating removed before the final finish can be applied:

For case or bracelet: .......... 30 For both: .......... 45
Bead blasting can be done in one of 3 finishes.
Flat: has minimal light reflecting properties.
Low Light: has medium light reflecting properties.
Hi Light: the most light reflecting. Has a "liquid metal" look. Not quite polished but smooth and bright.
If finish is not specified default will be Hi Light.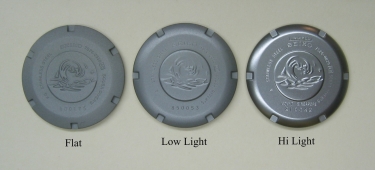 NOTE: Bead blasting will not remove scratches or dents, only the most superficial of desk diving marks and with flat and low light very shallow laser engraving.
Another NOTE: I'm not a great photographer and getting a good pic of these case backs was tough. In person, each of these finishes is smooth in both look and feel. The blasting does not change the color of the metal, however, depending on the finish and lighting the metal may "look" darker.
In person, the Low Light finish has the darkest "look" in most lighting. Although all the finishes look real good =) Hope this helps.
Of the 3 finishes, Flat is the most sensitive. The blast profile is such that it doesn't take much contact to show "desk diving" marks.
Cerakote (heat cured ceramic based coating):
Watch with non-rotating bezel:
Includes case, case back, and crown: .......... 95
Watch with rotating bezel:
Includes case, bezel, case back, and crown: .......... 120
For multiple cerakote colors on watch: .......... 10 to 25
Paint diver bezel markers:
One color or multiple colors: .......... 5 to 25
Bezel only: .......... 35 (does not include bezel removal, insert installation, or number painting)
If bezel requires the pip be re-lumed: .......... 9
For each control other than crown: .......... 22

For display case back: .......... 15

Watch strap buckles: .......... 25 to 45

Watch bracelet end links: .......... 15 each
Prices vary for watches that have extra parts (crown guards, hex bolts, etc), have special handling or assembly requirements, and rare or expensive watches.
Current color offerings: Graphite Black, Sniper Gray, Tungsten Gray, Cobalt, Titanium, Crushed silver, Dark Earth, OD Green, Coyote Tan, Benelli Sand, Desert Verde, Blue titanium, SOCOM Blue, Burnt Bronze, Gold, Zombie Green, Sky Blue, .
The picture below is not an exact color reference, it is a guide to help you visualize the color differences. For instance the Dark Earth and Coyote Tan look different in the picture, on a watch however, they are much closer with the Dark Earth having a green tone and the Coyote Tan having tan tone. Using this chart and the pictures found on the website you'll be able to get a very good idea of how the colors will look on your watch.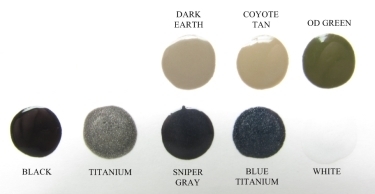 NOTE: We are not coating watch bracelets at this time.
Case / Bracelet Refinishing:
Due to watch case type and shape, and what the finish is (brushed, polished, or a combination) prices can vary greatly.

Below is a general starting point for the various finishes offered. Please let us know what make and model your watch is and if possible a picture so that we can give you an accurate quote.
Polished only finish on polished watch:
Polish case: ............ 55 (minimum)
Polish bracelet: .......... 55 (minimum)
Brushed only finish:
Brush finish case: .......... 55 (minimum)
Brush finish exterior of bracelet and clasp: .......... 25

Remove brushed or blasted finish and apply high polish:
Case: .......... 150 (minimum)
Bracelet: .......... 125 (minimum)

Refinish watch that has both polished and brushed finish:
Refinish case: .......... Inquire
Refinish bracelet: .......... Inquire

Case / Bracelet Prep:
Remove dents in case or bracelet prior to refinishing, ceramic coating: .......... 15 (minimum)
Note: To remove dents you must remove metal. Please keep this in mind if your case has a lot of deep dents or gouges. There may be small remnants of very deep dents after refinishing since protecting the shape of the case is our priority.
Watch Repair / Custom Work:
*** Prices listed are for stand alone service, prices will vary depending on the total amount of work being done. ***
Install/Replace Hands: .......... 35
Install/Replace dial (or dial and hands): .......... 40
Custom fit dial to movement: .......... add 15
Install/Replace chapter ring
for watches requiring crystal removal: .......... 40
Install/Replace crystal or crystal gasket: .......... 35
(standard press in)(add $15 for broken or cracked crystals)
Install/Replace bezel insert: .......... 35 to 45
Install/Replace day/date wheels: .......... 35 to 55
Paint chapter ring (with blasting or cerakote): .......... 10
Paint seconds hand tip: .......... 5
Lume seconds hand tip: .......... 9
Machine work: .......... Price Varies
(contact us with your request)
Note:
The list shown is to give a general guideline for commonly requested work. If you don't see the work you desire listed please email for current pricing.
Prices listed are for standard 3 hand watches. Prices will vary depending on the amount of work being done and if parts have to be removed for other work.
Prices are higher for chronographs and other complications, vintage watches (including Seiko 6309, 6105, 7002), and front loading watches.
Pressure testing:
Up to 7 ATM dry test: ..........8
3 ATM wet test: ..........15
11 ATM wet test: ..........20
Pressure test rating is based on the dry and wet testers pressure gauge. One ATM (atmosphere) is appromimately 33.6 feet. The test provided is a not a guarantee of waterproofness but a pass / fail test that your watch will keep water out at the depth tested to.

The depths tested to are not a direct indication that your watch can't go deeper, they are based on the maximum depth my machines can test.

If your watch fails the dry test it will require a wet test to find the location of the leak. You can choose to replace the bad gasket(s), take the watch as is knowing the watch failed, or replace all the gakets. These options will be discussed in further detail if the watch fails the test.
Lume Work:
Relume 3 hands (h/m/s): .......... 50
Relume GMT hands (GMT/h/m/s): .......... 65
Relume Chronograph hands(chrono/h/m/s): .......... 95
Relume bezel pip: .......... 10 to 30 (depends on pip type)
Relume dial: .......... Please inquire. Dial lume prices start around $50 and can exceed $100. Factors for pricing include dial type (numbers cost more to lume than shapes), how many markers are on the dial, how many lume colors you prefer, etc.
Prices shown are for lume work only, prices can vary depending on watch and movement type as well as other work being performed.
We use Noctilumina luminous paint. Colors (day): orange, green, blue, white, yellow, pink, vintage tan. Custom tints available. Lume glow colors vary, please inquire if you have specific requirements.
Movement Regulation:
3 position results before and after the regulation will be provided: .......... 35 (most movements)